MOLDOVA PRESIDENT SPEAKS FOR DISMISSAL OF ALL CONSTITUTIONAL COURT JUDGES
24 june, 2019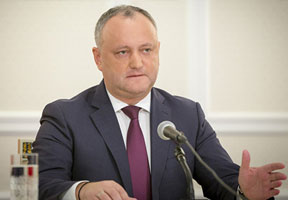 Moldova President Igor Dodon has stated that for restoration of constitutional stability in the country, it is necessary to make all Constitutional Court Members resign.

The head of state made a video address to compatriots while being on a working visit in Minsk this past weekend, and said: "The only way to restore constitutional stability is to discharge all the Constitutional Court Judges. After that, it is necessary to form a new Court panel of professional and honest law experts".

Dodon made reference to the conclusions made last Friday by the Venice Commission of the Council of Europe, which scrutinized the latest decisions by the Constitutional Court and formulated its opinion concerning the decisions' correspondence to the norms of the law and democracy.

In his words, the Commission's high opinion has been formulated in the following important-most conclusions:

The Constitutional Court did not respect its own procedures nor the principle of equality of the parties when dealing with the recent political crisis: the Court invited the representatives of only the Democratic Party and did not invite the representatives of the Parliament or President. Thus, the principle of equality of the parties was violated;

The procedure of parliament dissolution must have followed consultations with parliamentary factions to verify the fact that all possibilities for forming a new government have been exhausted;

According to the accepted calculation of the three months limit foreseen in the Civil Code, which was previously applied by the Constitutional Court, the time frame for forming a new government expired on June 9, three calendar months after the confirmation of the election results. June 9 being a Sunday, the applicable deadline was possibly June 10. Therefore, the Commission said, Maia Sandu's investiture on June 8 met the legal deadline";

The simultaneous appointment of three [of 6] Constitutional Court Judges only a few months before parliamentary elections;

The Commission pointed out that there were strong reasons to conclude that the Constitutional Court's decision of temporarily suspending the President and the appointment of the Prime Minister as an interim president was not grounded on the Moldovan Constitution.

"In the course of the Commission debate, its members shared the opinion that the case of the Republic of Moldova is an exceptional one, having no precedents in the Commission's practice. Proceeding from the above-mentioned, I believe that the only way to restoring constitutional stability is through dismissing all the Judges of the Moldovan Constitutional Court", stressed President Dodon.

Last Thursday, resignation was stated by Court Chairman Mihai Poalelungi. All the rest Judges have not yet reacted to the calls of the President, Prime Minister and the civil society to tender resignation.