​DA LEADER TO REPRESENT ACUM BLOC AT LOCAL ELECTIONS IN CHISINAU - MIHAI POPSOI
20 august, 2019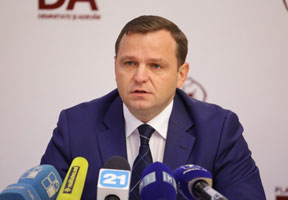 Leader of the "Demnitate si Adevar" [DA, "Dignity and Justice"] Party Deputy Premier, Minister of the Interior Andrei Nastase will become candidate of the ACUM bloc at Chisinau mayor elections, said Parliament Deputy Speaker, one of Party of Action and Solidarity (PAS) leaders Mihai Popsoi to journalists.
"The PAS and DA have complete understanding and consensus in this regard. There will be no surprise with nominating ACUM candidate for local elections in Chisinau. The candidate is known, it is agreed and the decision will be made public soon", the MP said.

He reminded that Deputy Speaker Ion Ceban will represent the Party of Socialists (PSRM) at these elections. This was announced by President Igor Dodon, whoi said that the candidature will be officially nominated at the August 30 sitting of the PSRM Republican Council.

Popsoi reminded that last year Nastase won Chisinau gubernatorial elections, but the previous authorities behaved very grossly and cynically in relation to him, declaring the voting results as invalid. "These were shameful actions, condemned not only by Moldovan citizens, but also by development partners. This absurdity must be corrected. Andrei Nastase will be again running for the post of Chisinau mayor, having the entire support of the ACUM bloc", Popsoi said.

He expressed hope that the participation of Nastase and Ceban in elections as opponents will not lead to contradictions in the parliamentary majority and the Government.

"We must sign a kind of pact of non-aggression. Each candidate must focus on Chisinau problems, but not politics or geopolitics. We must conduct a correct election campaign, to discuss city development problems without attacks on personalities or discussions of political problems", Popsoi said.

In the second tour of elections on June 3, 2018, Andrei Nastase defeated Ion Ceban, getting over 52% votes. Ceban challenged some of Nastase's actions in court, after which the court cancelled the voting results. This led to worsening of Moldova's relations with external partners and to activation of protest moods among voters.