PRESIDENT REFUTES RUMORS ABOUT CHISINAU AIRPORT CONCESSION TO A NEW COMPANY
24 august, 2019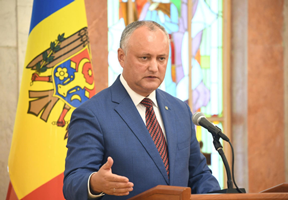 President of Moldova denied the information about transmitting the Chisinau airport in concession to a new company at the Friday's briefing after the sitting of the Supreme Security Council, urgently convened for this to discuss this issue.

"There is a firm interested in buying the Avia Invest company, which received airport in concession for 49 years from the previous authorities. We warned that firm better not to do this, as the concession agreement may be terminated. Besides, any possibility of changing Avia Invest owners has been blocked. I responsively state that the Avia Invest have the same owners and that an investigation is conducted on the concession agreement", Dodon stated.

He stressed that it is not about the selling of the airport, which remains state property.

"As for the agreement, it must be terminated. There were many violations committed at conducting the contest and the contract signing, which give grounds to terminate the agreement. The investor is not fulfilling its liabilities in full", the president said.

As for the violations, he said that the state suffered damage at agreement signing.

"Thus, the agreement does not say that investor may sharge 9 euros from each passenger during all the period of the contract validity. For example, in 2018 2.8 million passengers went through the airport. The elementary calculation demonstrates that the private company got over 24 million euros over a year. If we multiply this figure by 49 years, this is almost 1 billion euros. Meanwhile, the investor undertook to invest in the airport 244 million over this same period. I do not talk already about other revenues of the concessionaire. It is obvious that a great damage was caused to the state. Those, who signed the agreement, must respond for this. The investigative authorities are investigating this", Dodon said.

He also said that another reason for contract termination may be the failure to fulfill the undertaken liabilities by the concessionaire.

"Besides, there are serious suspicions that a part of money came from the stealing of the billion from banks. For example, within the first two stages of the concession in 2014-2018 the Avia Invest had to invest 160 million euros. They reported about investments worth 78 million euros. A thorough audit must be conducted to clarify everything. According to our opinion, the concession agreement must be terminated and there are all reasons for this", Dodon stressed.

As Infotag has already reported, information appeared in press this week that the company NR Investments Ltd, which belongs to the family of Rothschilds, bought 95% of Avia Invest company, which took into concession the Chisinau airport in 2013.