PRESIDENT DODON STATES THAT PERSONNEL RESHUFFLING IN GOVERNMENT SHALL TAKE PLACE IF HE SAYS
11 octomber, 2019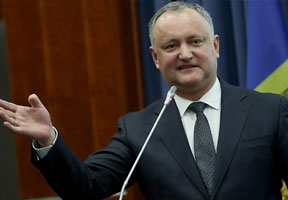 In an interview, published on the www.tribuna.md portal on Thursday, President Igor Dodon commented on statements of Prime Minister Maia Sandu who refuted president's earlier words about possible personnel changes in the Cabinet of Ministers.

Dodon said that he is ready to further support the current parliamentary majority and the Government.

"However, the president has certain legitimacy and is not going to remain aside and keep silence on relevant problems in society", he said.

The president reminded that in June he and the Party of Socialists (PSRM), which has 35 mandates in the Parliament, agreed to appoint Maia Sandu as Premier and give almost all the posts in the Government to the ACUM bloc, which has 26 mandates in the legislature.

He pointed that recently, the attacks against president from the side of ruling coalition partners have become more frequent. He supposed that this may be due to the fact that someone wants to destroy the current ruling coalition or to feel better in opposition. Dodon called to preserve the parliamentary majority and the Government and to work more efficiently.

"I see no reason to hold people who do not demonstrate results or efficiency in the current Government, thus, if the President and the PSRM decide that changes must be made in the Cabinet of Minister, these changes do will take place", Igor Dodon firmly stated.

On Wednesday, Prime Minister Maia Sandu refuted president's statements about possible personnel reshuffling in the Government. She said that Dodon may express his opinion as any other Moldovan citizen, but it is the Premier, who decides on the Cabinet of Ministers' membership.