MOLDOVA HOLDING ORDINARY GENERAL LOCAL ELECTION
20 octomber, 2019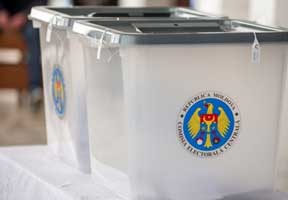 A nation-wide ordinary election to local governance organs is being held in Moldova today. At 7 o'clock this morning, a total of 1,969 polling stations opened across the republic, to be available to voters until 21.00 hrs.

Struggle for 898 mandates of city, town and village mayors is being run by 3,761 candidates, and for 11,580 mandates of the members of various-level municipal councils [aka councilors] - 50,410 candidates.

Voter registers contain the names of 2,803,740 citizens eligible to vote. The Central Election Commission has printed a total of 7.8 million ballot-papers for the October 20 elections.

They will be elected for a term of four years from the date of the election. The mandates of the current people's deputies expired on June 14, 2019. However, due to the political crisis in February-June, it was not possible to appoint and hold elections on time. They were appointed only at the end of June. To recognize the elections as having taken place, at least one quarter of the voters in each constituency must take part. Advisers of all levels are selected in one round during the voting on October 20. A candidate who has collected more than 50% of the vote (+1 vote) is considered to be the primary. If in the first round of voting none of the registered candidates receives more than half of the votes, a second round of voting is held within two weeks, in which the two candidates with the highest number of votes will take part.

During the upcoming elections to local authorities, elections will also be held for the mayor of Chisinau. 16 parties and one electoral bloc delegated their candidates. A representative of one party and one independent candidate were not registered by the district council, and two candidates withdrew. There are also 51 councilors to be elected. The candidates were delegated by 17 parties and one bloc.

17 candidates will participate in the October 20 elections: Ion Cheban (Party of Socialists), Theodor Kyrnats (NarodnayaVolya), Valery Klimenko (Shor Party), Valeriu Munteanu (Union for the Salvation of Bessarabia), Victor Kironda (New Force Party) ), VitaliyVoznoi (European Left Party), Dumitru Tsyra (European People's Party), Vitaliy Marinutsa (Green Ecological Party), Andrei Nastase (ACUM Electoral Bloc), Lilia Ranogaets (National Liberal Party), Alexandra Fetescu (Liberal Democratic Party), Dorin Chirtoaca (Liberal Party), Ivan Dyakov ("Our Party"), Vladimir Cebotari (Democratic Party), Octavian Tsyku (National Unity Party), Sergey Toma ("The party of the working people"), Vlad Turcanu (Romanian People's Party).

Chisinau municipality is one of 34 second level administrative-territorial units. It consists of 35 settlements. The population is 779,339 people, about 630 thousand of them have the right to vote (the rest are children under 18). According to the census, Moldovans (Romanians) make up more than 81.6% of the population, Russians - 9.3%, Ukrainians - 5.9%.

On October 20, about 12 million lei were allocated from the budget for organizing and conducting the elections. For the election, the CEC approved the formation of 35 district election councils. The October 20 electoral process will be followed by nearly 1.6 thousand national observers from 11 profiled organizations and by 145 international observers - the representatives of 11 foreign diplomatic missions (USA, EU, Great Britain, Sweden, Italy, Russia etc.), 11 electoral bodies from other countries (Romania, Azerbaijan, India and other) and 3 non-governmental organizations.