RENATO USATII CALLS POLITICIANS TO STOP FIGHTING FOR EACH OTHER'S "OWN POCKET PROSECUTOR GENERAL"
11 november, 2019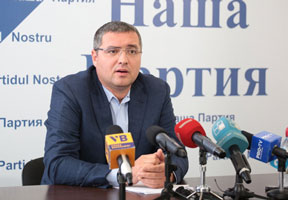 Renato Usatii, leader of the Partidul Nostru (Our Party, OP) and the Mayor of Balti city, has called on the leaders of main Moldovan political parties to stop combating for each other's own pocket Prosecutor General.

Usatii said in his video address to his supporters on Sunday that in this shameful story with the contest for Prosecutor General and with the vote of no confidence in the Maia Sandu Government, each of the constituent parties of the governing coalition "is pulling the blanket on itself".

"Out of the 4 selected candidates, Alexander Stoianoglo (of whom I haven't heard anything bad) is being painted by Igor Dodon in the Socialist colors. Maia Sandu is in a hysteric. She is illicitly nominating her own candidate for Prosecutor General, fanning up a pan-Moldovan scandal. And she is doing all this under a slogan of "A Prosecutor General for the country's good!" The country really needs an independent Prosecutor for all citizens and not to serve to this or that political figure", said Usatii.

He presumes that the Party of Socialists and a part of Democratic deputies are preparing a scenario of appearing of a new Plahotniuc.

"According to the information available with me, a group of Democratic parliamentarians (10-12 persons) led by MP Eugen Nichiforciuc, are ready to become turncoats – so-called "independent MPs". The deputies remaining with Pavel Filip have a unique chance to vote for resignation of Prime Minister Sandu, but not to cast their votes for a minority government of PSRM and DPM, which they will try to form. If such efforts really start to be made, Our Party will come out into the streets of Moldovan cities and villages – along with the ACUM bloc and the entire conscientious civil society of Moldova. In such case, the new regime of "a collective Plahotniuc" in the person of the PSRM and a part of Democrats-turncoats will be demolished in a matter of one day", stated the OP leader.

Renato Usatii called all politicians to common sense.

"Moldova citizens need not the chaos, which the country is falling into after half a year of expectations. No, the citizens need concrete deeds. They are expecting from the Government higher pensions and salaries, and from local administrations – good roads and all the rest. Our Party, which won local elections in Balti and eight more cities, will be actively moving along exactly such road: hard work in the localities, not a war. We shall not agree to any unions, but we are categorically against chaos", stressed Renato Usatii.