EX-PREMIER FILAT "SUSPENDS POLITICAL ACTIVITIES BUT CONTINUES STRUGGLE FOR EUROPEAN VALUES"
09 december, 2019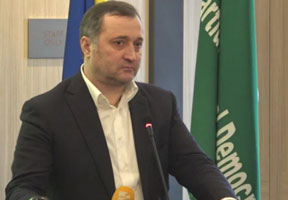 Moldova's former Prime Minister Vlad Filat has stated that he has suspended his political activities, "but I shall continue my struggle for European values".
Speaking at the Sunday's meeting of the LDPM National Political Council, Vlad Filat said: "I understand that there are plenty of questions and suppositions. And I will try to answer honestly and directly – the privilege I was deprived of for last 4 years, during which other people were speaking instead of me that what was in their interests, generating many speculations and lies. Now I will be speaking by myself until I prove that all those talks about me did not correspond to reality. My political activities have been suspended. But I cannot be isolated from the things we had struggled for together: a law-governed state, true reforms, genuine European integration etc. Moldova must be where its place is – in the European family of nations".

Filat said he has not yet determined a method of his political struggle, "but I shall be together with my LDPM colleagues. I will be consulting people in Moldova and abroad".

Speaking about the promise he gave on the arrest day of October 15, 2015 "to stand up with public revelations that will blast up the entire political class one day", Filat said that the press misinterpreted his words then, and that there is practically no free and independent press in Moldova that would cover events objectively.

After the Council meeting, Vlad Filat said he is going to spend several days in Hungary to meet with Prime Minister Victor Orban, who invited him to pay a private visit. As was already reported by Infotag, after his last week's conditional early release from custody, Vlad Filat is not prohibited to travel abroad, but he must notify the authorities if he is projecting to be absent for more than 5 days.