DA PLATFORM SUGGESTS ADOPTING ANALOG TO MAGNITSKY LAW IN MOLDOVA
21 january, 2020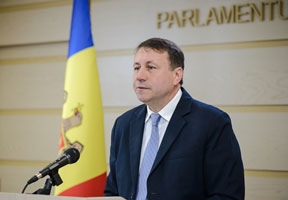 The opposition DA Platform party believes it would be strategically important for Moldova to adopt an analog to the Magnitsky Law, DA Deputy Chairman Igor Munteanu stated at a news conference on Tuesday.
He reminded that the Law bears the name of Russian lawyer Magnitsky, who made public very important information about corruption in Russia, was arrested and died in prison in 2009. In response, the United States approved in 2012 a Law stipulating sanctions against persons having a relation to the crime. In 2016, the U.S. Congress attached a global status to the Law, which presupposes a prohibition to receive entry visas to the USA and sanctions against persons violating human rights or involved in considerable corruption.

Munteanu is convinced Moldova needs to have such a law that should become an instrument to speed up the investigation of the one-billion-dollar bank fraud and of the scandalous Laundromat operation [laundering of US$22 billion of Russian money through Moldovan banks].

"The Law should permit to block access to the Moldovan banking and finance system for persons involved in various machinations and for violation of human rights. It should permit to confiscate illicitly acquired property and should prohibit such people to stay in the Republic of Moldova territory. Moldova will thus be eligible to apply personal sanctions against those who committed serious offences and will thus defend the country's economic and political area from the influence of criminal community. The Moldovan civil society is tired of waiting for an outcome of the one-billion-dollar bank fraud and for a punishment of culprits. If the incumbent Parliament really represents citizens' interests, there should be no political party in the forum that would stand up against this legislative initiative", stated Igor Munteanu, the Director of the "Viitorul" ["Future"] Institute of Development and Social Initiatives (IDIS Viitorul) and Moldova's former Ambassador to the United States.

As was already reported by Infotag, the adoption of a Magnitsky Law analog was one of the key pre-conditions put forward by the political bloc ACUM for creating a parliamentary coalition with the Party of Socialists. The Socialists agreed with other conditions put forth by other parties, but categorically objected to adopting a Magnitsky Law analog. In June 2019, however, ACUM decided not to insist on that.