BALTI MAYOR DRAWS PRIME MINISTER'S ATTENTION TO CITY'S ACUTEST PROBLEMS
14 february, 2020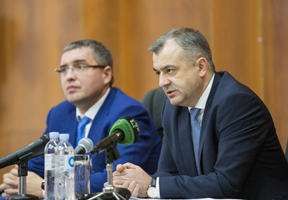 Balti, northern Moldova, February 13, 2020 (Infotag). The most serious, often chronic problems of the country's second-largest city of Balti were discussed here on Thursday in the meeting Prime Minister Ion Chicu held with Balti Municipal Council members and city administration representatives. The problems were outlined by Mayor Renato Usatii, who welcomed the Premier in the city and stated that the administration and Balti citizens count very much on efficient interaction with the new central authorities of the country.
Usatii expressed dissatisfaction about a new rule which has become a serious impediment to municipal economy development: since recently, the city administration has been deprived of the right to issue permissive documents to trade networks and enterprises working in the city.

"So, now that we have no relation to authorizations or approvals, local networks are trading in what they wish and wherever they choose. But the city must have the right to influence on these activities and entities", stated the mayor.

Renato Usatii expressed strong discontent about how Chisinau allocates Budget means for repair of edifices in Balti.

"In 2019, the entire republic received 209 million lei for repair purposes, and Balti – not a single leu. In 2020, the towns and villages of Moldova are to receive 110 million lei for these purposes, while the country's second-largest populated area – merely 500,000 lei, which is enough for a repair of perhaps one kindergarten", the Mayor told the Premier.

Renato Usatii is convinced that regional and local authorities must be given the right to decide by themselves the sizes of salaries to be paid to their employees.

"Look, a rank and file tax inspector in Balti has a monthly salary of not more than 4,500 lei, while his or her colleagues working in the National Tax Inspectorate in Chisinau and holding an equivalent position and work load – 10 to 12 thousand lei. It is not surprising that the Balti Primaria suffers a chronic, crying personnel shortage", stated the Mayor.

Renato Usatii raised yet another problem before the Prime Minister: there are quite many unused buildings in the city that are on the balance of various Moldovan ministries and other central organizations.

"They remain empty and idling for years, getting shabby. Meanwhile, we could repair them, re-equip for dwelling purposes and give fresh apartments to medical workers, engineers, teachers and other valuable specialists and thus prevent their quitting the city", said the Balti Mayor.

Premier Chicu said his ministers "don't sit in their offices – they constantly visit various parts of the country and the facilities their ministries are in charge of. We try to go deep into localities' problems and find solutions by joint efforts. We are synchronizing the activities of the Center and local authorities".