PAS LEADER CHALLENGES IN COURT THE DEMAND TO COMPATRIOTS WHO RETURN TO MOLDOVA TO BUY MEDICAL POLICY
02 april, 2020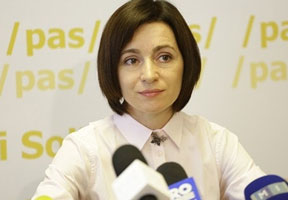 Chairwoman of the Party of Action and Solidarity (PAS) Maia Sandu challenged in the Chisinau Appeals Chamber the decision of the Commission for Emergency Situations dated March 31 on introducing the obligation to have medical policy for Moldovan citizens, who return home from abroad.

On local television, she said that this decision was unconstitutional, maintaining that there are no normative provisions that would allow authorities to somehow prevent the returning of people home.

"Authorities should not seek or invent pretexts as in case of medical policy, without which a citizen is not allowed to the plane to Moldova", she said.

Sandu regards the Commission's decision as illegal and will be achieving its canceling.

Prime Minister Ion Chicu reacted to this in social networks, expressing regret about the fact that someone is trying to make politics on citizens' tragedy to support those who have financial problems with buying policy.

"Personally I am ready, in addition to my March salary I donated to the fund for combating coronavirus, to donate my April salary to help citizens who return to Moldova buy policies", he said.

Chicu called to solidarity, pointing at the need of the project, which will help citizens to come back home in difficult situation.