PRESIDENT DODON ASKS COMPATRIOTS NOT TO COME HOME FOR EASTER, AND POLITICIANS – TO DECLARE MORATORIUM ON DISCUSSIONS
06 april, 2020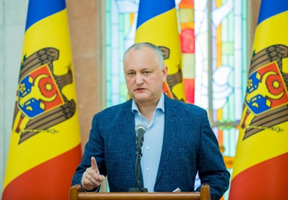 Moldova President Igor Dodon has requested compatriots abroad to not come home for the forthcoming Orthodox Easter [April 19].

In his Sunday's address to citizens, the head of state said: "This year, we will have to celebrate this holiday in solidarity and prayers, but only where each of us is residing – not to jeopardize our and our dear ones' health and lives. I want to send a message to our citizens in the diaspora, to whom this holiday is not only a great religious event but also a longed-for possibility to meet with families. But in the current situation, the best thing you can do for your families is to provide for their security to avoid a risk of infection, particularly for the elderly. I apply for your wisdom and solidarity: please remain where you are now – until we pass this peak period, which we will enter in the nearest days".

Igor Dodon said that in the nearest days he will hold a meeting with the leadership of the Metropolitanate of Chisinau and All Moldova to decide how citizens should celebrate this great holiday without jeopardizing their health, "and the State will support the Church with a corresponding logistic if need be".

President Dodon also called on politicians to declare "a total moratorium on any political discussions. Let's forget about politics for the crisis period. Presently we should focus our joint efforts on resolving the crisis. Citizens are expecting precisely this from us and not political battles in the time when hospitals are full, when we are losing human lives and, together with other countries, are preparing to pass this critical peak period".