AFTER HIS SCANDALOUS SAYINGS AGAINST ROMANIA, MOLDOVAN PREMIER MET WITH ROMANIAN AMBASSADOR
26 may, 2020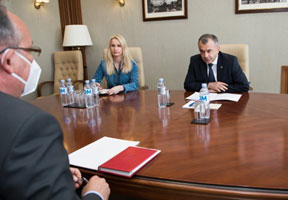 On Monday, Moldovan Prime Minister Ion Chicu held a meeting with Romania's Ambassador Extraordinary and Plenipotentiary to the Republic of Moldova, Daniel Ionita, and reported the event in social networks afterwards.
In his post, Chicu expressed gratitude to Romania for its "permanent help and support, including what concerns the struggle against COVID-19".

"The support was offered by Romanians to Moldovans without pre-conditions, which only confirms the friendly relations between the people residing on both sides of the Prut River. We discussed strategic partnership between the Republic of Moldova and Romania - the relations which I personally very much value and stand for their further deepening. The partnership between our two independent and sovereign states must be based on mutual respect and cannot permit any political interference by one country into the affairs of the other country", wrote Ion Chicu.

Premier Chicu believes that "Actions based on the political preferences of parties in power in Bucharest or Chisinau, like also public assessments of Governments' achievements, may not be present in the dialog between the two friendly countries".

The Premier hinted that during the meeting with the Ambassador, the interlocutors discussed his recent sayings about Romania and Romanian Member of the European Parliament Siegfried Muresan, which have led to a diplomatic scandal.

By the moment Infotag was issuing this news story, there was no mention of the Monday's meeting on the Romanian Embassy's official website. The latest publication of the website was the Statement issued by the Romanian Ministry of Foreign Affairs on May 22, in which the Ministry condemned the sayings made by Moldovan Prime Minister Ion Chicu last Saturday.