IGOR DODON THINKS THAT IN CASE OF EARLY PARLIAMENTARY ELECTION, IT SHOULD BE COMBINED WITH PRESIDENTIAL ELECTION
29 may, 2020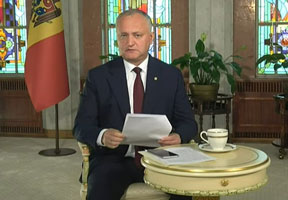 Moldova President Igor Dodon believes that in case a decision is taken to hold a snap parliamentary election, it should be held on one day with the ordinary presidential election [scheduled for November 1, 2020].
In the course of his traditional weekly live Q&A communication with citizens on his YouTube channel and social networks held every Friday morning, Dodon said that the opposition is working hard to remove the President, dissolve the Chicu Government and to organize a snap parliamentary election.

"But this is an extremely irresponsible behavior – to seek resignations and thus provoke a crisis and chaos. If the opposition parties want to achieve a government removal, let then try this. Let them vote in parliament together with the thieves of the billion dollars from Moldovan banks, and let them feel together in one boat with them", stated Igor Dodon.

He presumes that a snap election is possible: "If there is no more parliamentary majority, then a snap election will become possible. We have already lodged an inquiry with the Constitutional Court asking it if it is possible to hold a parliamentary election together with the presidential on November 1. Depending on what the Court answers, we will take a decision".

Dodon stressed, however, that even if the current feeble parliamentary majority ceases to exist one day soon, the Chicu Government will be able to continue working successfully, like now.

"I don't think that another government will be able to manage the job better than Chicu's in the current complicated situation. Even the opposition has come to comprehend this. They are thinking, and are not rushing to remove the incumbent Cabinet. I've heard yet another scenario: the opposition may try to dismiss the Government closer to the forthcoming autumn and the presidential election. But I want to warn them: in autumn, the situation in Moldova will not be easier – may be even harder than now. From the political point of view, it would be only advantageous for us if the opposition assumes full responsibility for the country in such a crisis period. As for us, we will be fulfilling our mandate to the very end, saving the country from a political crisis and chaos", stated President Igor Dodon.