OP LEADER PRESENTS EVIDENCE OF HIS BEING SHADOWED
02 june, 2020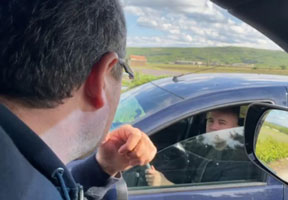 The lawyer of Our Party Chairman, Balti Mayor Renato Usatii has presented to the Prosecutor General's Office concrete data proving that the opposition politician is being shadowed, Usatii stated himself on Monday. According to him, the guy who shadowed him on May 30 is Ion Lapsin, an officer of the Investigation Inspectorate.
"He is a graduate from the Municipal Sportive Lyceum. His father Valeriu Lapsin is a former police officer. During the memorable actions of protest in Chisinau he was in charge of hired provocateurs, and he was Deputy Commissar of Dubasari Raion Police", said Usatii.

The politician promised that next time he will be "not so gentle and polite with those who will be shadowing me".

"Why on Earth should I think and worry about who is shadowing me? A killer? A kidnapper? Even President Dodon threatened many a time that he would catch me and lock me up in Tiraspol for an election period, and that the next New Year I would meet in a remand prison. These agent guys are dressed as civilians, and they don't have labels "Police" or "ISS" [Information and Security Service] on their foreheads. Next time I will be tougher in my reactions: I will drag them out of their car and will force them to introduce themselves on the video camera. I am aware that provocations are being prepared against me", said Renato Usatii.