​IGOR DODON SAYS THAT THE OPPOSITION IS WEAK AND IS AFRAID OF REMOVING CHICU GOVERNMENT
05 june, 2020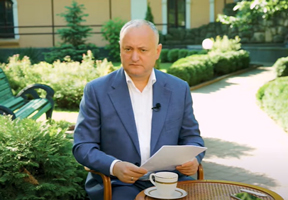 "Our opposition is weak. They are afraid of dismissing the Premier Chicu Government", Moldova President Igor Dodon stated in the course of his traditional weekly live Q&A communication with citizens on his YouTube channel and social networks held every Friday morning.
Addressing to opposition politicians, the head of state asked: "Why are you not doing this, I mean removing the Government? A man from northern Moldova said to me recently: "The dog that barks much does not bite". Our opposition is like that dog – talking much but doing nothing".

Dodon named the opposition "weak, cowardly and helpless… They are afraid of assuming responsibility, of forming their own coalition, which the people are already calling "Sandu-Candu-Plaha-Shor". Maia Sandu is a bit cleverer – she has taken a pause. But Nastase already sees himself a prime minister. Before, he wanted to become president, then mayor of Chisinau, then interior minister. Now he is already distributing portfolios in his government".