PUBLIC OPINION BAROMETER POLL REVEALS THAT NEARLY A HALF OF MOLDOVA CITIZENS DO NOT TRUST ANYBODY
03 july, 2020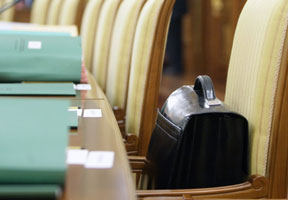 Nearly a half of Moldova citizens do not trust in a single of the Moldovan politicians currently on the scene, as per the Public Opinion Barometer poll findings presented by the Institute of Public Policies (IPP) on Thursday.

In the rating of citizens' trust in concrete politicians, PAS Chairperson Maia Sandu is maintaining lead presently with 10.6%, President Igor Dodon - 10%, Our Party leader and the Mayor of Balti city Renato Usatii - 2%, Ilan Shor - 1.4%, Prime Minister Ion Chicu - 1.3%, DA Platform leader Andrei Nastase - 1.3%, MCP leader Vladimir Voronin - 0.8%, DPM Chairman Pavel Filip - 0.8%.

But 49.8% respondents do not trust in any of the politicians, 14.9% are uncertain, and 4.5% did not answer.

At the same time, despite the low level of trust in the politicians, the voters are ready to demonstrate a high election activity. Thus, if a presidential election were held next Sunday, 76.2% respondents would surely go to polling stations, and 22.4 percent of them would vote for Igor Dodon, 11% -- for Maia Sandu, 2.4% -- for Renato Usatii, 1.5% for Ilan Shor, and 1.3% for Andrei Nastase.

If a second round of elections is competed by Igor Dodon and Maia Sandu, then 33.3% respondents would vote for Sandu and 29.1% for Dodon, but 23.5% respondents stated that in such case they would not go to the polls.