RUSSIA DOES NOT CONNECT LOAN PROVISION WITH POLITICAL SITUATION IN MOLDOVA - AMBASSADOR VASNETSOV
09 july, 2020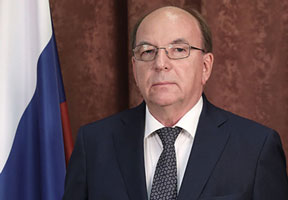 Moscow does not connect the provision of the much-spoken state loan [200 million euros] to Moldova with the political situation in the republic, the Ambassador Extraordinary and Plenipotentiary of the Russian Federation to the Republic of Moldova, Oleg Vasnetsov, stated in an interview with Russia's official news agency TASS.
The diplomat reminded that the Russian Government had responded to Moldova's request to enter into repeated negotiations on the loan following the disputable decision taken by the Moldovan Constitutional Court, which recognized the already concluded Loan Agreement as one at odds with the Constitution.

"We realize how important this financial assistance is in a period very hard for the Moldovan people, and we are not connecting the help provision with the political situation in the republic", stressed Oleg Vasnetsov.

The Russian Ambassador expressed concern about the changes introduced into bilateral cooperation plans by the COVID-19 pandemic, about accompanying economic problems, and about the political crisis that has broken out in Moldova ahead of the approaching presidential election.

"It is really a pity that certain Moldovan politicians, driven by pre-election passions, have ignored the people's vital needs and the interests of strategic cooperation with Russia, which is of a considerable importance for this republic", said Oleg Vasnetsov.

He stressed that Russia does not impose on Moldova a vector of its external policy development, but will be always defending its own interests, too.

The diplomat reminded that in due time Moscow warned its partners in Chisinau that the implementation of the Agreements with the European Union, signed by the Moldovan Government in 2014, would have a negative influence on the whole range of economic ties with Russia, which was the main market for Moldova-made products then.

"We proposed to hold negotiations to resolve that problem. But Chisinau would not have listened. So, the Russian Government had to impose restrictions on the importation of some Moldovan goods to Russia to minimize the risks of exportation and re-exportation from third countries. Largely thanks to the efforts undertaken by President Igor Dodon - and lately by Ion Chicu Government - the situation is improving, and Moldovan products are gradually returning onto the Russian market", said Ambassador Oleg Vasnetsov.