GOVERNMENT APPROVES APPOINTMENT OF FOREIGN MINISTER OLEG TULEA AS AMBASSADOR TO HUNGARY
06 november, 2020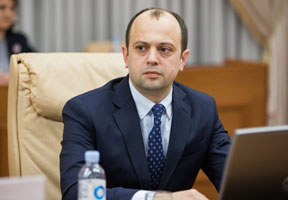 The Moldovan Government has approved the appointment of Oleg Tulea, current Minister of Foreign Affairs and European Integration, as the Republic of Moldova's Ambassador Extraordinary and Plenipotentiary to Hungary.
At the Cabinet sitting held on Thursday, Prime Minister Ion Chicu thanked Oleg Tulea for his work on the ministerial post and requested him to keep under his control the organization of the second round of the Moldovan presidential election in foreign countries before his departure to Budapest.

Oleg Tulea will remain on his current post until the signature of a corresponding Decree by the head of state. Incumbent President Igor Dodon is on an unpaid leave until the second round of the elections to be held on November 15.

President Dodon stated earlier this week that in case of his election victory, certain personnel changes in the incumbent Government will follow, "but incumbent Prime Minister Ion Chicu shall remain".