​MAIA SANDU GOING TO STRUGGLE FOR FREE PRESS AND AGAINST MISINFORMATION
24 november, 2020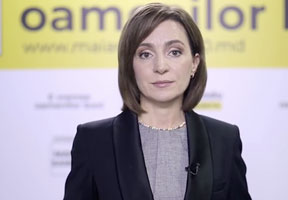 Moldova's President Elect Maia Sandu stated at the Media Forum opening in Chisinau on Tuesday that she will be struggling against misinformation in the mass media and for a free press.
"We are aware that genuine journalists come across serious difficulties at doing their job. Those who want to inform the public objectively are subjected to threats and have to face unfair competition. On the other hand, we see how politically controlled television channels prosper on disseminating lies and misinformation and on helping their bosses to control citizens", said Maia Sandu.

She stated that the new presidential administration will be a transparent and open institution that will not be concealing information from citizens.

The president elect suggested returning "to an old and painful question – the Audiovisual Coordinating Council".

"Here I can only repeat our claims [to the ACC] as well as the conclusions made by international organizations – the reports prepared by the OSCE and the ENEMO [European Network of Election Monitoring Organizations] on our presidential election campaign. The reports say the Council fails to fulfill its mission", stated Maia Sandu, who supports the bill on carrying out an external audit of the Audiovisual Coordinating Council.

The president elect stressed that the free press must become a reality in Moldova.