​PRESIDENT MAIA SANDU ADVOCATES FOR GOVERNMENT RESIGNATION AND EARLY PARLIAMENTARY ELECTIONS
30 november, 2020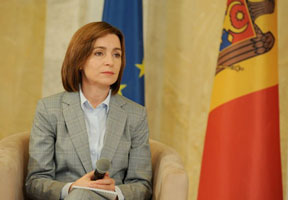 President-elect Maia Sandu stands for the resignation of the government, the dissolution of parliament and conduction of early parliamentary elections. She said this at her first press conference as President-elect on Monday.
"In the presidential elections held, people voted not only against Igor Dodon, but also against his government, the current authorities, and the methods by which Dodon conducts politics. This is the main message of these elections and it is clear to us, and should be understood by everyone else - this is the government that must resign," Sandu stated.

She stressed that "before dismissing, this government must fulfill its obligations - the state budget for the next year must be presented in parliament and approved."

The President-elect noted that she intends to meet with Prime Minister Ion Chicu to discuss all these issues.

Answering questions, Sandu stated that she did not consider it possible to create a new government with the support of deputies from the Party of Socialists.

"We saw that the Socialists do not want real justice reform and the fight against corruption. Therefore, I consider it necessary to dissolve the parliament, to hold early elections, "reset" parliament and form another government," the official outlined.