MAIA SANDU CALLS WITHDRAWING ISS FROM PRESIDENTIAL CONTROL IS AN ATTEMPT TO USURP POWER
03 december, 2020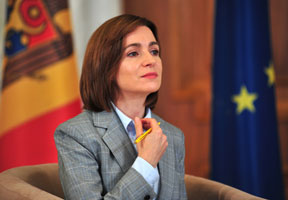 Moldovan President-Elect Maia Sandu has called as "an attempt to usurp power" the Socialists' intention to withdraw the Information and Security Service from under the President's control. Sandu stated to the press on Wednesday that "the Dodon regime is following in Plahotniuc's footsteps".
"This is an anti-democratic arbitrariness being started here by the personality who has lost the presidential election and with it - citizens' trust. The man who will soon [after December 23] be holding no state posts wants to further control corruption schemes. This is an attempted usurpation of state power", emphasized Maia Sandu.

In her words, "It is absolutely clear that this is not the last such attempt, and that the Socialists, acting team-like with Sor Party deputies, will be using the Parliament for waging their struggle against the people of Moldova".

Maia Sandu called citizens to come to the Parliament Building by 10 o'clock on Thursday morning "to defend the people's will" and "to stop the state power usurpation by the oligarchic majority of Dodon-Shor".