​ILAN SHOR MAINTAINS HE HELPED VLAD FILAT TO RECEIVE QUARTER OF BILLION U.S. DOLLARS
16 octomber, 2015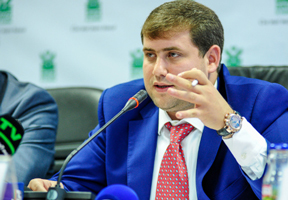 The former President of the Administrative Board of Banca de Economii a Moldovei [BEM, savings bank], prominent Moldovan man of business Ilan Shor maintains that in 2010-2014 he promoted the receiving of US$250 million by former Moldovan Prime Minister Vlad Filat. This information was fixed in the transcript of the interrogation that took place at the Anti-Corruption Prosecution Office, where the business tycoon came to voluntarily and gave himself up. The transcript text was published by some Moldovan mass media on Friday.
Ilan Shor said to prosecutor Adrian Popenco that he had been acquainted with Vlad Filat since 2008.
"In 2010, Filat ensured a positive verdict in favor of my Dufremol [Duty-Free Moldova] Company, which was at law with Le Bridge Company then. For that, I personally delivered a reward, US$500,000 cash, to his office in the Government Building. In that period, I also passed watches and jewelry worth 30 thousand euros as presents to Filat", reads the interrogation record.
Shor further described another agreement, when his companies were permitted to run duty-free trade in fuel and lubricants in Moldovan customs zones. Then, he also handed in half a million dollars cash to Vlad Filat.
"The law did not prohibit such trade, but a Resolution of the Government was necessary to launch it. Filat promised to ensure such a Resolution, and did it on October 27, 2010. After that, it was necessary to make the Customs Service sign land rent agreements exclusively with my companies, which was precisely done, though partially", said the transcript.
According to Ilan Shor, Vlad Filat asked US$1 million for his support of that project. Of that sum, a half was provided in advance and the other half was to be repaid after the launching of ready gas stations.
However, said Shor, the Customs Service unexpectedly refused to allocate land plots, the transaction was suspended, but Filat did not return the advance.
Shor confessed that for grand bribes paid to Filat, he had managed to receive control over Banca de Economii.
"Credits total worth a billion lei were concluded on my companies. Filat ensured credit resources from BEM for Banca Sociala and Unibank, and I arranged the credits proper. Then the money was used for buying a bad BEM portfolio. In plainer words, that was just a money turn-over, not a real purchase of the bank's debts, which was precisely done in March-April 2014", said Ilan Shor at the interrogation.
In his words, Filat did not fulfill his promise and did not repay the credits in 2013.
"As the payment of interests against the credits for a fictitious redemption required quite pretty money, I had to take credit after credit from banks – monthly. Though, I should say that Filat ensured extra resources from Unibank by means of transferring there the remains of money resources from Franzeluta [the country's largest state-run producer of bread and related products] and from the National Social Insurance Fund to a total amount of 600 million lei", Ilan Shor told the prosecutor.
In his words, he was about to report all those and other facts to the law enforcement, but Filat proposed him to buy out Banca de Economii together, earn a profit over next 2-3 years and thus compensate for the damage.
"We agreed that Filat would ensure the obtaining by our companies, mine and his, of the controlling parcel of Banca de Economii and the transfer to BEM of all money flows of all state-run enterprises, agencies, organizations, treasury accounts. I was supposed to ensure investments to an amount of US$50 million. Filat also asked US$5 million for current expenses related to an extra issue of BEM shares [As a result of that issue, on August 29, 2013 the bank's controlling parcel went to private shareholders and the State's share shrank to 33.3% from the previous 56.6%]. Besides the subordinated credit, the Government then demanded from us to obtain hopelessly bad credits worth another 300 million lei", said Ilan Shor.
Upon gaining control over Banca de Economii, Filat began to systematically demand money from Shor – for business running, political needs and what not.
"All in all, the sums given to Filat between the end of 2013 and September 2014 amounted to some 60-80 million lei. Credits were taken mainly on my companies, but were then transmitted to several Filat's offshore companies, or sometimes given to him in cash", said Ilan Shor.
According to him, in September-October 2014, after an unprecedented pressing on him, he arranged the provision of some US$180 million to Filat, of which US$25 million cash was handed in to Filat by Ilan Shor himself.
Shor said that the last time he brought cash to Filat in the LDPM office – 20 million lei "for party needs" – was on October 10, 2015.
The transcript of interrogation indicated a number of persons, who can confirm the above evidence, including the former chief of Vlad Filat's security service Gheorghe Stratan.
Despite the criminal litigation started against him in early 2015, Ilan Shor took part in the June 2015 local elections, and has been the Mayor of Orhei town for 100 days by now.
Some local mass media are writing that Ilan Shor is giving evidence against Filat so sincerely under the pressure put on him by Vlad Plahotniuc, who has a great influence on the Moldovan Prosecution service, courts, National Anti-Corruption Center (NACC), and who is thus carrying out a reprisal against his political opponent – Vlad Filat.