MOLDOVA SHOULD OFFER EQUAL CONDITIONS FOR SELF-FULFILLMENT TO ALL CITIZENS - PRIME MINISTER
25 octomber, 2017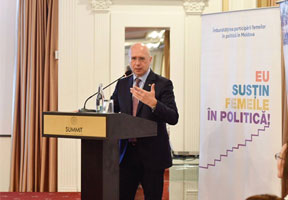 Prime Minister Pavel Filip attended the National forum on problems of women with disabilities "We have skills - we want chances" on Tuesday. He said that equal conditions should be created in Moldova for citizens' self-fulfillment.

The Premier said that the participation of Government and Parliament representatives in the event demonstrates the desire and need of constructive partnership between the authorities and the civil society in order to identify the existing restrictions and propose solutions for their overcoming. The head of the Cabinet of Ministers told about actions the Government has already adopted in this regard, including about the approval of the Concept of reforming the system of establishing the degree of disability.

"We want to move from this outdated system, which is mostly based on the medical model, to a modern one, which is based on a biopsychosocial model. In Moldova all the citizens should have equal rights for self-fulfillment", Pavel Filip said.

He called on people with special needs to actively participate and implement the state policy and program, stressing that the Government is open for dialog and will take into account all the proposals, made in this relation.

Premier also stressed the need to provide jobs to people with disabilities, stressing that the legislative initiative on encouraging companies which hire people with disabilities should be promoted. According to him, this year 535 unemployed with disabilities were registered in the Bureau for Population Employment, 225 of them, including 118 women, have already found jobs.

Pavel Filip recognized that there are still problems with disabled people's access not only to work, but also to education. He said that he personally participated in creation of necessary conditions for a young man form Riscani raion in order that he to continue education in college.

"Problems should be resolved not in this way, not by means of intervention of Prime Minister or other officials. Here, a systemic approach is necessary. I would not like to intervene each time in separate cases, the Government should have an approach to systematically resolve such type of problems. The solutions of these problems are uneasy and the approach should be maximally uniform", Filip said.

He cited an example, described by Swedish writer Kjell Nordstrom in the book "Funky Business", where it is said about an international company, which got the main prize for providing of equal chances to women, even if there was no accounting of personnel on gender basis.

"I would like that the times to come when there in Moldova will be no problems with providing of equal opportunities, while we will have to discuss just the professional aspect", Pavel Filip said.

Currently, there are over 180 thousand people with disabilities registered in Moldova and around one-half of them are women.