SILVIA RADU APPOINTED AS CHISINAU ACTING MAYOR
06 november, 2017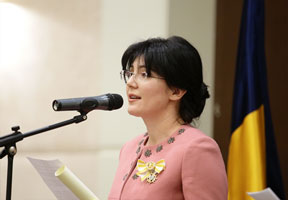 Chisinau Deputy Mayor Nistor Grozavu signed on Monday an order on appointing former General Director of the company "Gas Natural Fenosa Moldova" Silvia Radu as Chisinau deputy governor and empowered her to fulfill the duties of the mayor.

At the Monday's briefing, he said that in the quality of acting mayor he was forced to appoint new deputy mayors to unblock the work of the primaria. Thus, besides Silvia Radu, European People's Party of Moldova councilor Ruslan Codreanu was appointed as Chisinau deputy mayor.

"They are real professionals, who can do a lot for the city. I renounce the post of acting mayor and will continue working as deputy mayor. The new Acting Chisinau Mayor is Silvia Radu. I am grateful to her that she agreed to take this post. She is a real technocrat and will be able to arrange the work of the city government in accordance with modern trends", Grozavu said.

Chisinau Mayor Dorin Chirtoaca was removed from the post for the period of the investigation. He is kept under arrest as he is suspected of abuse of power. The Liberal Party said that Acting Mayor is operatively administrating the primaria departments, but has no right to appoint new deputy-mayors.