NEW GOVERNMENT TO CHECK FILIP GOVERNMENT'S PROJECTS FOR ELEMENTS OF CORRUPTION
18 june, 2019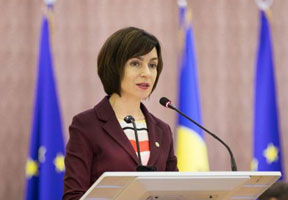 Social and infrastructural projects, initiated by Pavel Filip Government, including the "Good Roads for Moldova" and the "First House" will be analyzed to identify the possible hidden corrupt schemes.

Prime Minister Maia Sandu announced about this at the Monday's press conference, adding that depending on the check results, concrete measures will be taken on each project in part.

"We undertook to implement infrastructural and social projects citizens need for ensuring living standards' improvement, but before that we should find out if there are any elements of corruption or inefficiency there", she said.

As Infotag has already reported, being in non-parliamentary opposition, Chairwoman of the Party of Action and Solidarity (PAS) Maia Sandu and her colleagues from other opposition parties were criticizing Democratic Party's social projects. In particular, they maintained that Democrats were using budget funds, giving 600 lei to low-income citizens before holidays for bribing voters.