CIVIL ACTIVIST GRIGORCIUC PLACED UNDER HOUSE ARREST
18 june, 2019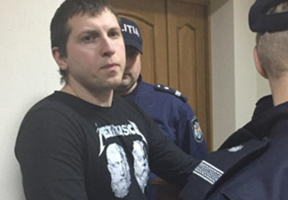 Civil activist Pavel Grigorciuc, a member of the so-called 'Petrenco Group', who slapped DP parliamentarian Sergiu Sirbu in the face 3 months ago, has been transferred from custody over under a house arrest by decision of the Chisinau Court passed on Monday.
All the previous months, the Court was invariably meeting the prosecution service's demands, extending Grigorciuc's 'preliminary arrest' for 30 days, then again for 30 days, and again. At the Court session on Tuesday, the prosecutors habitually demanded to extent the custody once again. However now, upon a change of power in the country, the Court declined the prosecutors' inquiry and ruled to transfer Pavel Grigorciuc under a house arrest for 30 days.

As was already reported by Infotag, on March 21, 2019 Pavel Grigorciuc [formerly a Communist Party member] slapped Democratic MP Sergiu Sirbu in the face in a Chisinau cafe on many people's eyes. Sirbu immediately called an ambulance to register "bruises".

Pavel Grigorciuc was detained by the police on the same date and, after 2 days of detention, was sentenced to his first 30 days in custody, after which, as the Court ruled, he received his second 30-day term in a remand prison – in a cold and wet underground solitary cell, without a lawyer.

A former Communist, too, Sergiu Sirbu was one of the first 'parliamentary migrants' who have run from the Communist faction over to the ruling Democratic Party faction in the previous 101-member Parliament of Moldova. Thanks to him and other such Communist fellow-travelers, the Democratic Party eventually came to have a parliamentary majority of 53 MPs, though at the November 2014 parliamentary election the Democrats polled 15.8% and received only 19 mandates.