AUTHORITIES TO PROVIDE HOUSING OR MATERIAL COMPENSATION TO OTACI PEOPLE WHO REMAINED HOMELESS
20 june, 2019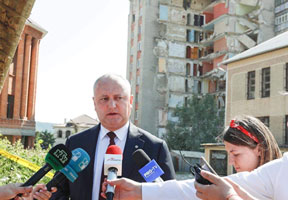 President Igor Dodon stated that the authorities will provide housing or compensation to everyone who lost their housing as a result of collapse of a 9-floor apartment building in Otaci. He wrote on his Facebook page that he visited the place of incidence on Thursday morning.

"Local authorities timely evacuated building tenants before the collapse, after big cracks appeared in the walls. In total, there are 36 apartments in the house, 18 families (51 people, including 11 children) were evacuated. Fortunately, nobody was hurt", the President wrote.

According to him, currently the paramount task of local and central authorities is the temporary placement of evacuated people and seeking of new housing for them. A part of them live at relatives, others got places in social facilities.

"The state will provide permanent housing to all the families who suffered. For this we consider different variants, including net compensations worth market cost of the destroyed apartments for buying new housing in this city or in the region", Dodon said.

He said that he conducted operative sitting with participation of raion and city administration and the leadership of local Department for Emergency Situations, as well as spoke with people evacuated from the building.

"According to preliminary data, there were several reasons, including the commissioning of the building despite violations, permanent accumulation of water in the basement and unsanctioned changes in the building construction – partial dismantling of carrying wall by some tenants. According to representative of the Emergency Situation Department, the building will most likely be demolished", the president wrote.

At the press conference after the Government's sitting, Prime Minister Maia Sandu said that the situation should be discussed together with local administration and the building tenants, to establish the most preferable variant for people – money or new housing.

"So far, the local administration found temporary housing for them. As I know, the problem appeared due to rains and the poor quality of the building. It should be completely demolished, as risks are too serious, while rehabilitation is impossible", Sandu said.

She said that at the today's sitting she ordered to check all the buildings in localities which suffered from heavy rains. First of all, kindergartens and schools should be checked.