COMMISSION ON BANKING FRAUD INVESTIGATION HEARS NMB EX-PRESIDENT
24 july, 2019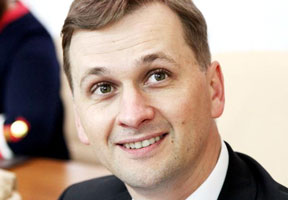 Chairman of the parliamentary commission on investigating the stealing of the billion Alexander Slusari regarded the answers of former National Bank of Moldova President Dorin Dragutanu at the Tuesday's hearings as an attempt to avoid responsibility.

Slusari explained at the briefing that given the words of Mr. Dragutanu, it seems that the NBM was doing its best during the 2013-2014 crisis, but failed due to lack of necessary instruments.

"The commission tried to find out his opinion about the additional issue of the BEM shares in 2013 [according to the Government's decision]. Dragutanu said that he did not support the idea and insisted on bank capitalization. It seems that the NBM head and the very bank had different points of view – we presented the regulator's decision dated July 11, 2013, where the bank supports the issue, while Dragutanu said that the NBM had neither supported nor rejected it. Back then, the Ministry of Finance, the International Monetary Fund, the World Bank and the BEM leadership were categorically rejecting the possibility of the issue and had the NBM said a firm "no", things may have happened differently", the MP said.

According to Slusari, Dragutanu remains adherent to the need of providing state guarantees to three problematic banks, which according to him should have been issued back at the beginning of 2014.

"However, he did not answer to the question why he did not introduce external administration in banks, which would be absolutely logical, as each child knew that money are being withdrawn from the system. Dragutanu maintains that the decision in this case belonged to the Government", said the Deputy Speaker, saying that such regulators' behavior is unacceptable.

He also said that on Thursday the commission plans to hear ex-Minister of Finance Anatol Arapu and ex-Minister of Economy, currently Democrat MP Andrian Candu.