EX-MINISTER OF DEFENSE APPOINTED AS SECRETARY OF SUPREME SECURITY COUNCIL
13 august, 2019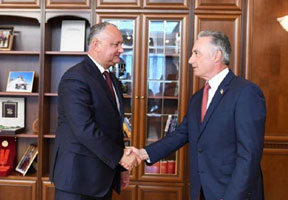 Socialist MP Victor Gaiciuc was appointed as secretary of the Supreme Security Council and Presidential Advisor in Defense and National Security.

President Igor Dodon wrote about this on Facebook on Monday, mentioning that General Gaiciuc has a great experience in state security structures.

"He had headed leading posts and showed himself as a real professional, including in the post of Defense Minister. Mr. Gaiciuc also has rich diplomatic experience – he was Moldovan Ambassador to Belgium and Moldova's representative in the NATO. I am absolutely sure of Victor Gaiciuc's ability to guarantee efficiency of the SCC and contribute to strengthening the sector of defense and national security", the head of state wrote.

Before, he informed that the SCC meeting will take place before the end of this week and the interlocutors will discuss the earlier agreed issues and other most important topics for the country

On the same day Dodon met with Director of the Information and Security Service (ISS) Alexander Esaulenco and ISS Deputy Head Artur Gumeniuc.

Infotag's dossier: Victor Gaiciuc was born on March 12, 1957 in Pepeni village of Singerei raion. He graduated from Kharkov Higher Military Aviation School and Moscow Military Political Academy. Within 2001 through 2004 he was Minister of Defense of Moldova. Within the period of 2005 through 2009 we was engaged in diplomatic work. In February 2019 he was elected to the Parliament on PSRM party ticket.