THIRD CRIMINAL CASE AGAINST VEACESLAV PLATON SUBMITTED TO COURT
22 august, 2019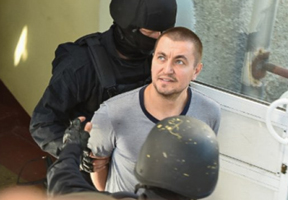 Prosecutors submitted to court the third criminal case against the already condemned businessman Veaceslav Platon.
According to the Anticorruption Prosecution Service, he is charged with manufacturing and putting into circulation a forged bank card, laundering illegally acquired money, as well as organizing a criminal gang.

According to the prosecution materials, in early 2013 with the help of physical and legal persons through one of Moldovan banks Platon had held majority package in, he got copies of documents of one of Superior Court of Justice judges and intended to tarnish her professional image. For this, a deposit account worth 300 thousand euros was opened in a foreign bank via mediators. These funds were received from fictitious operations, conducted on the basis of false documents. Moreover, some Moldovan bailiffs and judges were involved in this.

The bank card was activated via bank central office terminals by means of using copies of the Moldovan judge's documents. 99 transactions totaling US$297 thousand were conducted. Meanwhile, the judge knew nothing about the actions, conducted on her behalf.

According to the legislation, such illegal actions are punishable with up to 10 years.

Veaceslav Platon is already serving sentence on two criminal cases.

In April 2017 Platon was sentenced to 18 years on accusation of stealing 800 million lei from Banca de Economii. In December 2017 Platon got 12 more years for involvement in stealing assets worth around US$15 million from three insurance companies. In total he is serving 25 years of prison. Also, Platon is regarded as one of the main coordinators of laundering over US$22 billion from Russia through Moldovan banks into offshore accounts within the so-called Landromat case. A criminal case has been started against him in Russia as well.