​VLAD FILAT MAINTAINS THAT HE WAS RELEASED ABSOLUTELY LAWFULLY
05 december, 2019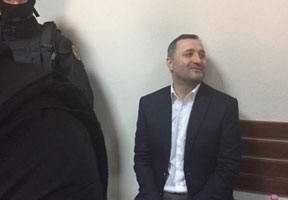 Moldova's former Prime Minister Vlad Filat is convinced that his yesterday's conditional early release from prison was absolutely lawful.
Filat stated at a news conference in Chisinau on Wednesday that the court decision on his release was based on legal provisions that were adopted last year and entered into force on January 1, 2019.

"All this has no relation whatsoever to the recent change of government in Moldova or to somebody's pressure on the judiciary. It was a long process that began following the judgment made by the European Court for Human Rights on March 19, 2019, and while my lawyers were working in this direction all those subsequent months, three Governments changed in Moldova", said Filat.

His lawyer Viorel Berliba provided some details of the process. In his words, last April 26 the imprisonment term was reduced by 682 days due to Filat's forbiddingly bad detention conditions, and in September – by another 27 days.

"The law-stipulated two-thirds of the remaining term expired on November 5. So, the court decision of December 3 had no relation to the resignation of the Sandu Government or appointment of a new Cabinet", said the lawyer.

Vlad Filat stated that he continues to plead not guilty: "I had no fair or transparent trial. Court decisions were taken behind tightly closed doors, without evidence or proof or observance of elementary trial rules. Therefore, I am going to struggle for my full acquittal and rehabilitation".

Filat reminded that the Chisinau court decision was based on the judgment made by the European Court for Human Rights, which is now examining a second Filat case. He said that for all the past 50 months, he was detained in a solitary cell 8 square meters large, where he stayed all alone for 23 hours a day. Meetings with lawyers were permitted only twice a week – for 1.5 hours each.

Filat was shocked to hear President Dodon's assertion that he was allegedly released despite the fact that he had not compensated for the 25-million-dollar damage he had inflicted to the Moldovan State.

"The court decision contained no provision about reparation of damage and no indication of a damage sum. There was only a provision concerning illicit repayments. On this basis, a "special confiscation procedure" was applied to me. In plainer words, the Moldovan State confiscated all what I had earned during my whole life", said the former prime minister.