NOW PLAHOTNIUC IS WANTED INTERNATIONALLY ALSO ON HIS SECOND PASSPORT ISSUED IN THE NAME OF VLADISLAV NOVAK
12 december, 2019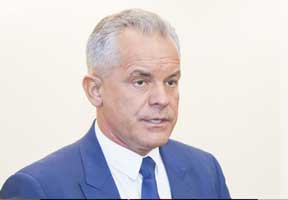 Fugitive Moldovan tycoon Vlad Plahotniuc has been declared as internationally wanted also on his second passport issued in the name of a Vladislav Novak, the National Anti-Corruption Center (NACC) reported on Wednesday.

The NACC has notified the International Criminal Police Organization "Interpol", the Embassies of Romania, the United States and Great Britain in Chisinau that the ex-Chairman of the former ruling Democratic Party of Moldova Vlad Plahotniuc may well produce his second passport, according to which he is Vladislav Novak.

The NACC also said the Moldovan authorities had officially addressed to the British and American Embassies to help establish Plahotniuc's exact whereabouts for his subsequent extradition to Moldova.

As was already reported by Infotag, at the end of October the NACC declared Vlad Plahotniuc as internationally wanted after the oligarch had failed to show up in police for a preliminary arrest.

In mid-November, MP Chiril Motpan, Chairman of the parliamentary Standing Committee for National Security, Defense and Public Order, announced that Plahotniuc appears to have a second passport issued in the name of Vladislav Novak. The Supreme Security Council has established that the second passport had been given to him legally on the inquiry of the Information and Security Service (ISS). Presently, that inquiry is being investigated to establish how legally correct it was.

Besides all this, in early November the Anti-Corruption Prosecution Service aka "Anticoruptie" started a criminal litigation against Plahotniuc/Novak on charges of his exceeding office in the interests of an organized criminal group.