USA READY TO FURTHER HELP MOLDOVA STRUGGLE AGAINST CORRUPTION - AMBASSADOR DERECK HOGAN
17 january, 2020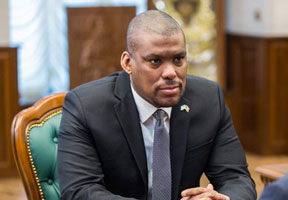 The United States stands ready to further back Moldova's efforts to combat corruption, the U.S. Ambassador Extraordinary and Plenipotentiary to the Republic of Moldova, Dereck Hogan, wrote in its article published in the Ziarul de Garda newspaper of Chisinau on Thursday.
The diplomat wrote his country would continue promoting the attraction of corrupt personalities to responsibility - in Moldova, region and all over the world.

According to him, the United States will support efforts to create a judiciary system in Moldova that would be treating all citizens impartially and punishing culprits, irrespective of their power or position, for no one may stand above the law.

Dereck Hogan welcomed the Moldovan leadership's striving to reform the judiciary system and combat corruption in top power echelons, and highlighted a range of successes achieved lately by the Moldovan law enforcement in the investigation of high-profiled criminal cases.

The American diplomat called upon the Moldovan leadership to promote the independence of state institutions in their struggle against corruption, to broaden reformers' plenary powers within such institutions, and to protect them from external influence.

Dereck Hogan is convinced that eradication of the broadly spread and deep-rooted corruption in Moldova can be started only when powerful and independent Moldovan state institutions come to employ honest and uncompromising civil servants. The Republic of Moldova citizens and international partners are looking forward to the continuation of certain progress achieved lately in the investigation of the one-billion-dollar bank fraud and of high-level corruption cases.

As was already reported by Infotag, on January 13 U.S. Secretary of State Mike Pompeo announced his designating former Moldovan official and oligarch Vladimir Plahotniuc "due to his involvement in significant corruption. В In his official capacity, Plahotniuc was involved in corrupt acts that undermined the rule of law and severely compromised the independence of democratic institutions in Moldova".

According to Pompeo, once the Secretary of State designates officials of foreign governments for their involvement, directly or indirectly, in significant corruption, those individuals and their immediate family members are ineligible for visas to the United States.

"Today's action sends a strong signal the United States does not tolerate corruption and stands with the people of Moldova in their fight against it.В The Department will continue to use these authorities to promote accountability for corrupt actors in this region and globally", stated Mike Pompeo.