SOME MEASURES FROM THE LAW, SUSPENDED BY THE CC, WILL STILL BE IMPLEMENTED
10 april, 2020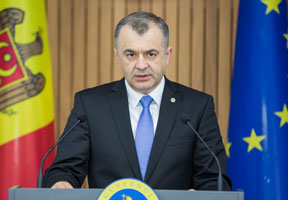 A part of measures on supporting the population in the period of emergency situation, implied in the law, which was adopted by the Government under personal responsibility, but was suspended by the Constitutional Court, will be implemented, decided the Commission for Emergency Situations on Friday.
At a briefing after the sitting, Prime Minister Ion Chicu said that the Government cannot allow that irresponsible actions of some politicians to threaten dozens and even hundreds of thousands of people.

"The today's decision was adopted in connection with the uncertainty about the future of the law, suspended by the Constitutional Court. The decision implies the establishing of minimal size of the unemployment allowance at 2.7 thousand lei, as it was provided in the suspended law, as well as the payment of this allowance to the registered unemployed. Besides, we decided to raise the minimal guaranteed monthly wage to 1.3 thousand lei, which allows calculating the increased child allowances – to 975 from 553 lei. Also, the right to get social assistance will be extended in case it expires during the state of emergency", he said, adding that the Commission's decision also contains measures on subsidizing salaries in companies, which suspended their activity in connection with the coronavirus, as well as support to holders of entrepreneurial patents.

According to the premier, legislative restrictions do not allow the Commission to include other measures, among which the lowering of the VAT for HoReCa sector, as well as the transmitting of 50% from the 9-euro fee from Chisinau airport passengers into the budget.

"One-half of the 9 euros a citizen is paying to those, who stole the airport, should have been going to support of the needy according to the suspended law. Yet, we cannot include this point in the today's Commission decision", he said.

Chicu said that the decision also implies payment of a premium worth 100% from the basic salary, as well as 50% – to medical personnel which is not connected with the combating of coronavirus.