COVID-19 TOOK 6 HUMAN LIVES LAST NIGHT IN MOLDOVA
09 june, 2020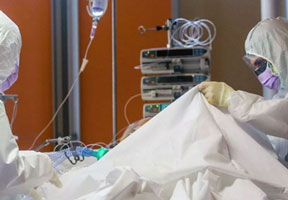 Six more people died of COVID-19 in Moldova last night. So, the death statistics have reached 359 since the pandemic beginning, reported the Ministry of Health, Labor and Social Protection.
By Tuesday, the list of confirmed coronavirus infection cases has grown to 9807 (including 1052 in the Transnistrian region), of whom 5797 people recovered.

President Igor Dodon told a briefing on Tuesday that a noticeable growth of incidence was registered in Moldova last few days.

"This has been due to a growing number of tests done lately. With most people, the coronavirus infection develops without symptoms, but tests reveal that the disease is present. We believe that the coronavirus situation in Moldova has been under control, including compared with other countries. Among 48 countries of Europe, Moldova is ranking the 22nd by the number of infected people per 1 million of population, and the 19th by mortality per 1 million, which constitutes 3.5%", said the President.