PRESSURE ON TRANSNISTRIA IS PROOF OF CORRECTNESS OF COURSE - LEADER
13 octomber, 2017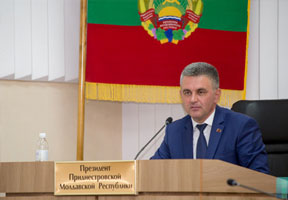 The pressure put on Transnistria only leads to the further consolidation of the region's multinational population and "serves an extra proof that the Transnistrian Moldovan Republic has chosen a correct course - for independence", Transnistrian president Vadim Krasnoselsky stated in an interview with the "SNG Today" portal.

Krasnoselsky said that nothing is preventing Transnistria from developing a mutually respectful and efficient dialog with Moldova, whereas Chisinau is demonstrating no principal readiness to holding a dialog with Transnistria as with an equal-right negotiation side.

"Instead of this, Chisinau prefers to treat us by using habitual, time-tested methods of pressure, blockades, sanctions and threats, apparently in a belief that Transnistria will agree to political concessions. Precisely such outdated approaches, overt hostility towards Transnistria, morbid ambitions and illusions concerning our territory and our economy are forcing the Moldovan side to conduct dialog with Transnistria from the position of strength", stated the Transnistrian leader.

He reaffirmed Tiraspol's readiness to an effective dialog with any authorized Moldovan state representatives, and voiced pity that this striving by Transnistria usually remains unanswered.