​TCP PARTY REPORTS PREVENTED ASSASSINATION OF ITS LEADER OLEG HORJAN
16 octomber, 2017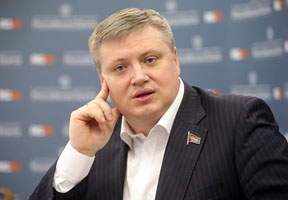 The murder of Transnistrian Communist Party leader Oleg Horjan, a member of the Transnistrian supreme soviet [parliament], was prevented on the last Saturday/Sunday night, the TCP leadership announced on the party website.

The report said that the information about the assassination prevention was confirmed by high-ranked sources in the Russian Federation.

"Information about the murder preparation came into the knowledge of Russian security services that used their channels to figure out and get into contact with the customers of the would-be murder, and to persuade them into giving up their plan. The incident has already been reported to the Russian State Duma [parliament], and in the nearest time the question will be raised in the Russian Federation leadership", wrote the Transnistrian Communists.

They underlined that Oleg Horjan was the only one among all the deputies of the Transnistrian supreme soviet who has demanded an overt, transparent and unbiased investigation into the loud traffic accident that happened earlier this month in the village of Parcani (near Tiraspol) when a 15-year-old girl was driven into by a luxurious car and died. A few days after the tragedy, an unprecedented harassment was unleashed against the TCP leader in the authorities-controlled media for Horjan's meeting with Moldovan President Igor Dodon.

One day before his projected assassination, Oleg Horjan gave a vast interview in the TCP newspaper "Pravda of Transnistria", in which he directly spoke about those who had ordered his persecution and its motives.

On October 15, Oleg Horjan had a telephone talk with Russian Communist Party Chairman and head of the party's faction in the Russian State Duma [parliament] Gennady Zyuganov and with Kazbek Taisayev - Secretary of the Central Committee of the Communist Party of the Russian Federation (KPRF) and First Deputy Chairperson of the Duma Standing Committee for CIS Affairs and Ties with Compatriots.

"The Russian Communists expressed their support for Horjan and assured him they would do all they can to put an end to the anti-communist vakha bacchanalia in Transnistria and to attempts of physical reprisals against communists", wrote the TCP leadership.