UKRAINE'S SPECIAL REPRESENTATIVE HOLDS MEETINGS IN CHISINAU AND TIRASPOL
20 octomber, 2017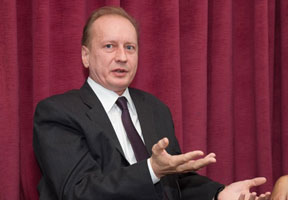 Ukraine's Special Representative for Transnistrian conflict settlement questions Viktor Kryzhanovskii visited Chisinau and Tiraspol on Thursday, discussing Transnistria-related issues with the representatives of the leaderships of the Republic of Moldova and the unrecognized Transnistrian Moldovan Republic.

Moldova's Deputy Minister of Foreign Affairs and European Integration Lilian Darii reaffirmed Moldova's openness to determining a viable solution to the Transnistrian problem, with the observance of the Republic of Moldova's sovereignty and territorial Integrity and with provision of a special legal status for the Transnistrian region. He also reiterated Moldova's stance on the need to withdraw home the Russian troops and armaments deployed on the left Dniester bank.

Moldova's Special Representative for Transnistria negotiations, Deputy Prime Minister for Country Reintegration Gheorghe Balan highlighted the main problems on the negotiation agenda namely restoration of the stationary telephone communication, international registration of Transnistrian license plates, the problem of the Latin-script Moldova-administered schools in Transnistria, the need to ensure for Moldovan peasants in the Dubasari Raion a free access to their private farm lands situated in Transnistria-controlled territories, provision of free movement of persons and cargoes, restoration of the railroad communication in the northern region, and other.

The Ukraine Special Representative confirmed his country's adherence to invigoration of the negotiation process on all existing platforms for a soonest-possible solving of the problems faced by the Republic of Moldova residents, including those living in the Transnistrian region.

In Tiraspol, Viktor Kryzhanovskii was received by Transnistria president Vadim Krasnoselsky, who reaffirmed Transnistria is ready to re-start traffic on the bridge across the Dniester near the villages of Bicioc and Gura Bicului, but on condition of receiving a firm guarantee that the bridge will never be used for military purposes.

Kryzhanovskii told about his recent visit to Vienna, about his plans to visit Brussels, about his meetings in Moldova and now in Tiraspol to discuss various aspect of preparation to the Conference of the OSCE Council of Foreign Ministers.

"As far as I could understand from my conversation with the Special Representative of the Austrian OSCE Chairperson-in-Office for the Transnistrian Settlement Process, Ambassador Wolf Dietrich Heim, the Austrian OSCE Presidency is interested to achieve a certain result in the negotiation process by the end of this year. They are deciding on which questions advancement is possible. Adoption of concrete documents would demonstrate that the Transnistrian conflict settlement process is advancing albeit slowly", said the Ukrainian diplomat.