GERMAN AMBASSADOR AND TIRASPOL LEADER DISCUSS TRANSNISTRIAN SETTLEMENT ISSUES
26 octomber, 2017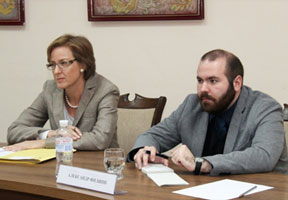 The Ambassador Extraordinary and Plenipotentiary of Germany to the Republic of Moldova, Julia Monar, and Transnistria president Vadim Krasnoselsky met in Tiraspol on Wednesday and discussed questions related to the Transnistrian conflict settlement, the presidential press service reported.

Krasnoselsky stressed the Tiraspol administration is open to constructive dialog with the Moldovan side in order to resolve acute problems accumulating in the economic, humanitarian, social and cultural spheres.

He said Tiraspol had put forward a number of initiatives aimed at resolving the problems and at a general improvement of dialog with Moldova, "But, unfortunately, we cannot see any response actions. There is no dialog. We stand up for a soonest-possible resumption of the 5+2 format negotiations".

In continuation of the 5+2 negotiation process topic, Julia Monar reminded that in 2016, in the framework of its OSCE Presidency, Germany acted energetically for enhancing the negotiations and for solving topical questions.

The diplomat said a serious step on that path was the signing of the Berlin Protocol in June 2016, and "It is important for us to see that Protocol clauses be duly fulfilled. Our goal is to put achieved compromises and decisions into life".

Julia Monar spoke also for reaching compromise-like solutions to the questions of telecommunications, re-opening of the bridge across the Dniester near the Bicioc village, and other.

Krasnoselsky said that the question of re-opening of this strategically, economically and socially significant facility has been long ripe.

"Yet in 2016, I talked about the expediency and possibility of resolving this question with Mr. Frank Walter Steinmeier, the Minister of Foreign Affairs of Germany. Transnistria is proposing a concrete, practical solution for this problem. The subject matter of this initiative and its substantiation have already been sent as an official document to all the parties of the 5+2 negotiation process", said Vadim Krasnoselsky.

Ambassador Julia Monar spoke out for a soonest-possible convocation of a 5+2 meeting in Vienna, stressing that all the negotiation parties are interested in this.