OGRV IS A PART OF PEACEKEEPING OPERATION ON THE DNIESTER, SAYS TRANSNISTRIA'S CHIEF NEGOTIATOR
18 june, 2018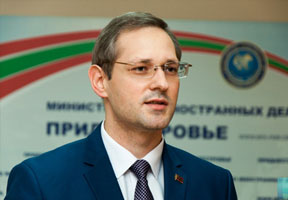 Transnistrian minister of foreign affairs Vitaly Ignatiev does not see any difference between the Operative Group of Russian Troops (OGRV) deployed in Transnistria and the Russian Federation's peacekeeping contingent present in the region since 1992, he stated on the local television, commenting on Moldova's submission of the draft of a troop withdrawal Resolution to the United Nations General Assembly.

Ignatiev stated that besides the above-mentioned Russian peacekeeping forces, there is no other Russian military contingent in the Transnistrian region.

"That's why any statements that Moldova supports the peacekeeping operation but insists on removing the OGRV are just biased. The OGRV is an inseparable part of the united mechanism of peacekeeping operation on the Dniester, taking part in the rotation of peacekeeping battalions", said Tiraspol's chief negotiator with Moldova. In his words, no decisions on changing the peacekeeping operation format or on removing of a part of the peacekeeping mechanism may be taken without an account of the Transnistrian people's opinion, and "We stand categorically against any actions creating a threat to peace and security on the Dniester".

Vitaly Ignatiev believes Chisinau's actions are definitely destructive because they are aimed at undermining the fundamentals of the peacekeeping operation in Transnistria.

"It is well known that the Moldovan side has been long working against the peacekeeping operation, including in the political and information sphere. We assess extremely negatively those actions that were undertaken within the framework of the Moldovan Constitutional Court's decision on the allegedly illegal presence of Russian peacekeepers in Transnistria and a possible using of forcible instruments against the peacekeepers", stated Vitaly Ignatiev.

As was already reported by Infotag, the UN Secretariat has accepted and registered the draft Resolution named "On a Full and Unconditional Withdrawal of Foreign Armed Forces from the Republic of Moldova Territory". Moldova's Minister of Foreign Affairs and European Integration Tudor Ulianovschi stated last week that the Moldova-proposed draft Resolution will be discussed by the UN General Assembly on June 22.

Russia's Deputy Minister of Foreign Affairs - State Secretary Grigory Karasin stated in this connection that the Chisinau's initiative is only sharpening emotions and is hampering a calm development of the Transnistrian conflict settlement process. "It is just impossible to invent anything more counter-productive and provocative than this", stated Grigory Karasin.