PMR COMMUNIST LEADER CALLED ON COMPATRIOTS NOT TO BE AFRAID OR KEEP SILENCE
03 june, 2019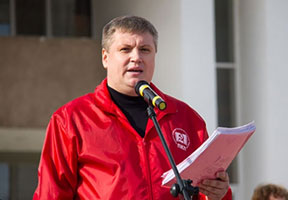 Leader of the unrecognized Transnistrian Communist Party Oleg Horjan addressed to his compatriots from prison, calling them to not be afraid and not keep silence.

The politician's address to the PMR people says that his arrest, the shameful trial and the so-called punishment are an absolutely dead-end and futile attempt of the ruling team to hold the power in their hands.

"Keeping in mind that they will most likely miserably fail the next, or maybe even early elections, the current Transnistrian leadership decided to get rid of a dangerous political opponent, who cannot be bought or sold. These guys have no chance to future! With all their apparent strength, this power and this company [Sheriff] have two very weak feet of clay. They lost the Russia's support, they are hated by their own people", Horjan said.

According to him, the bankrupt authorities are trying to suppress the opposition that is growing inside the republic.

"There are already open discussions in the Russian State Duma that mafia is working in Transnistria, comparing the PMR governance with the Nazis and the Bandera's men. After the obvious and concrete actions of the Transnistrian puppet authorities with the support of anti-Russian forces in Moldova and Ukraine, many in Russia understood that the time to act has come", Horjan said.

He stressed that his main goal is to free the republic from those, who have been robbing it for already almost 30 years.

"Transnistria will become a prosperous, strong and fair republic only when it will be freed from the absolute power of this company and its puppets in administration. I promise you that we will do this! I call you to come together around those public unions and people who are fighting against this regime already today. I am sure, I know that no one can stop the Transnistrian people in their fights for justice. It was so in 1992, it is so today, and it will be so in future", the disgraced politician said.

As Infotag has already reported, MP Oleg Horjan from the Transnistrian supreme soviet conducted a meeting with voters in the Tiraspol main square on June 2, 2018. The Transnistrian authorities regarded this meeting as an unsanctioned rally. After the rally, the law enforcers detained several activists. The MP tried to release them and a fight occurred in the police station. Prosecutors regarded his actions as illegal and asked the PMR parliament to deprive Horjan of his immunity to bring him to responsibility. This was done on June 5. The court declared the Transnistrian Communists' leader as guilty of using violence and of lese-majesty and sentenced him to 4.5 years.