MOLDOVAN DEPUTY PREMIER SHARES HER CONCERN ABOUT TIRASPOL'S LATEST DECISIONS WITH OSCE MISSION HEAD
07 june, 2019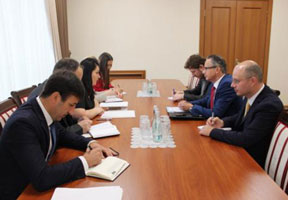 Moldova's Special Representative for Transnistria negotiations, Deputy Prime Minister for Country Reintegration Cristina Lesnic has expressed her concern about the latest decisions by the Transnistrian region's administration that had named some Moldovan populated areas, situated in the Transnistria Security Zone, as "locations under Moldova's temporary control".

On Thursday, Lesnic received Ambassador Claus Neukirch, the Head of the OSCE Mission to Moldova, and said that the Tiraspol-announced "movement regime simplification" is actually forcing local residents and visitors to move through certain border-check points unfolded illegitimately by Tiraspol in the immediate proximity to the administrative line, "which step is but disdain towards the Republic of Moldova constitutional authorities".

Reviewing the latest events in the Transnistrian region and the activities of profiled expert groups, Cristina Lesnic spoke of the hardships being suffered by the residents of Varnita village in the Anenii Noi Raion, situated near the Transnistria-controlled city of Bendery. She said that the locals are being intimidated with double taxation and victimized with other provocative actions by the Transnistrian authorities.

Another fresh example: when the Latin-script Moldova-administered schools in Transnistria were marking the end of an academic year a few days ago, the ceremonies were attended by surprisingly many uninvited guests – representatives of Transnistrian power structures. The officers prohibited the school administrations to raise the Republic of Moldova flag or to play the Moldovan anthem.

In that connection, the Moldovan Deputy Prime Minister once again stressed the need for a more active participation by the OSCE Mission to Moldova in rendering necessary assistance to the citizens whose fundamental rights and freedoms have been infringed on or restricted. Cristina Lesnic asked Claus Neukirch to react more resolutely to the recent provocative actions by Tiraspol and to promote prevention of instability in the region.