PERMANENT POLITICAL CRISIS IN MOLDOVA WILL NOT END AFTER COALITION CREATION – TRANSNISTRIAN LEADER
19 june, 2019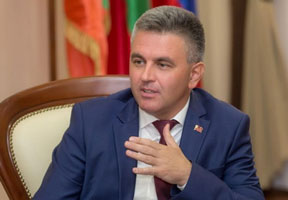 President of the unrecognized Transnistrian Moldovan republic (PMR) Vadim Krasnoselsky welcomed the peaceful creation of a new ruling coalition in Moldova, but maintains that the political crisis in the country will hardly end.
He said on local television that over the entire history of the independent Moldova there was no time when there would not be a political crisis in the country.

"The population is permanently divided. A part of them are looking westward, the others – eastward. Naturally, everything is divided – parties, people, interests. Often certain politicians migrate from one party into other. This process is permanent. And I suppose these are not the last metamorphoses. This is inevitable. The society is torn apart", Krasnoselsky said.

Nevertheless, he believes that the negotiation process on settling the relations between Transnistria and Moldova will be continued

Commenting on the topic of federalization, again raised in Moldova, the Tiraspol leader said these are speculations.

"Some politicians, seeking power in the neighboring state, start speculating the topic of Transnistria. Just remember: they announced about federalization, then they spoke about special status, then – about preserving the 2005 law, after that – again about federalization, then they recanted what they said. Now again at the forefront of political crisis they remembered about the federalization, about the special status, then they again retracted their statements. Meanwhile, no matter what one says, this is impossible to be done. First, they should make order in their legislative basis, either to cancel the laws or to adopt new laws, to change the Constitution. To build a legal platform, while then – to go ahead. Without this, statements are in vain", Krasnoselsky said.

He expressed regret that people cannot understand that many things changed over almost 30 years of Transnistria's independent existence: new institutions were formed, a whole new nation was formed – the Transnistrian nation, and all these speculations are absolutely inappropriate.

"I call on my dear colleagues to remind that there is the 5+2 negotiation format, there are certain agreements. There are a lot of unsolved problems on which life of simple people depends. This is what you have to solve. There is no need to do politicking as it a stalemate. We can exist side by side, together, resolving common problems, and everyone will be fine, and there will be no more war", the Transnistrian leader maintains.

Commenting on the threat of stopping the supplying of natural gas to Transnistria, he expressed confidence that the common sense will prevail and the transit of the Russian gas through Ukraine will be preserved.

"There are two presidents – Putin and Zelenskii. There are certain economic and geopolitical interests. It is these presidents who have to decide, not Dodon and Krasnoselsky. I am sure, and everything confirms this, that the gas transit will be preserved. All the tariffs will be preserved as they are in 2019. The issue is urgent, but there is no need to worry so much about it. Everything will be all right", the president said.

He assured that everything that depends on the Transnistrian authorities will be done.

"We have a draft law on gas, where everything will be stipulated. The Transnistria's property is untouchable. The entire transport system is the property of Transnistrian people. As for other relations, this is a different topic of discussion. Citizens should not worry. There will be gas in your kitchens and it will be warm in your houses", Krasnoselsky promised.