CHISINAU AND TIRASPOL NEGOTIATORS DISCUSS AGREEMENT FULFILLMENT
25 july, 2019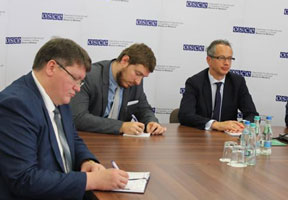 Political representatives of Chisinau and Tirtaspol – Moldovan Deputy Premier for Reintegration Vasile Sova and Transnistrian minister of foreign affairs Vitaly Ignatiev met in the OSCE Office in Chisinau on Wednesday.

According to the Moldovan Bureau for Reintegration, the interlocutors discussed in an open and pragmatic manner the process of fulfilling the earlier achieved agreements.

"The interlocutors discussed a wide range of issues, including the contribution to confidence building measures within the so-called Berlin plus package, the initiatives directed to activating the dialog and resolving of the relevant issues", the message says.

Vasile Sova stated about the need to take necessary actions for achieving considerable progress in the field of telecommunications and for establishing viable mechanism of temporary registration of petroleum products, imported to Transnistria through the Kolbasna-Slobodka checkpoint.

The message says that the main negotiators of Chisinau and Tiraspol applauded the fulfillment of the previously agreed accords. At the same time, Chisinau expressed desire to create favorable conditions for organizing educational process in eight Latin-script Moldova-administered schools in Transnistria. It is also about providing to them permanent buildings for the educational process.

"The proposal on implementing a project on launching a trolleybus route between Varnita town and Bender city with the help of international partners was supported. Also, the sides agreed to compile a joint address to external donors to get financing for reconstructing the Chisinau-Tiraspol-Cuciurgan road", the message says.

The participants at the 1+1 meeting agreed with the OSCE Mission proposal to convene the next sitting of the second round of negotiations in the 5+2 format on October 7-8 in Bratislava.

This was the first meeting in the format 1+1 this year. At the beginning of July, the participants of the format 3+2 (Russia, Ukraine, OSCE, as well as observers from the US and the EU) conducted negotiations in Chisinau and Tiraspol. The sides declared as advisable to resume the 5+2 negotiations, which have not been conducted since November 2018 due to parliamentary elections and the political crisis in Moldova.

At the beginning of June, ex-Presidential Advisor Vasile Sova was appointed as Chisinau's chief negotiator. He is very well acquainted with the Transnistrian settlement problematic and is known in Transnistria, as he had held this post in 2001-2009, during the rule of the Communist Party.