MOLDOVAN PRESIDENT, TRANSNISTRIAN LEADER DISCUSS TRANSPORT DISPUTE
20 january, 2020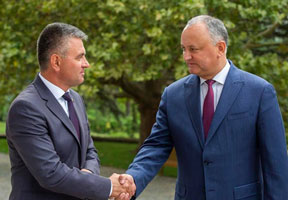 Moldova President Igor Dodon and Transnistria president Vadim Krasnoselsky today discussed the question of settlement of the continuing road transport impasse.

The Moldovan President, who is visiting Moscow on Friday, wrote on his Facebook page: "A few minutes ago, I held a telephone conversation with Vadim Krasnoselsky, with whom I reached an agreement to urgently find a solution to prevent deterioration of the situation of road transport communication and a possible appearance of complications for citizens. We have agreed to request profiled agencies to urgently find a way out to prevent a crisis situation".

In its turn, the Transnistrian official presidential website wrote today that in the course of the telephone talk, which took place on Krasnoselsky's initiative, Igor Dodon promised to lift the ban on crossing the Moldova-Ukraine border by motor vehicles having Transnistrian license plates driven by motorists having Transnistrian driving licenses.

The Tiraspol leader emphasized during the telephone talk with Dodon that the steps made by Moldova are violating Transnistrians' rights.

"The head of the neighbor state [Moldova] informed the PMR president that he [Dodon] stands ready to cancel the introduced restrictions. Igor Dodon has assured that such decision shall come into effect next week, and this should exclude the necessity of the practical realization by the Transnistrian side of its response measures announced today", wrote the Transnistrian presidential press service.

As was already reported by Infotag, on Friday morning the Transnistrian ministry of foreign affairs sent to all the stakeholders of the 5+2 negotiating format an official notification informing them that "In conformity with the decision taken by the Security Council of the Transnistrian Moldovan Republic [PMR], the PMR is introducing from January 24 - as a response measure - restrictions on the crossing of the Transnistria-Ukraine state border for all types of motor vehicles registered in the Republic of Moldova and driven by Moldova citizens having Moldovan driving licenses".

Tiraspol explained that this measure is being introduced in response to the official Chisinau's decision to restrict traveling abroad for vehicles having Transnistrian plates and for motorists possessing Transnistrian driving licenses. As a result, starting from January 10 the going abroad has become possible only for those Transnistrian motor vehicles, which have the agreed-on neutral-design license plates and which are driven by motorists having licenses issued by internationally recognized states.

Tiraspol perceived that as a violation of the Protocol on the mutual recognition of education and other documents issued by the Sides (signed on May 16, 2001), and of the Protocol Decision "On the Participation in the International Road Traffic of Transnistrian Motor Vehicles, not Involved in Commercial Activities", signed by the Chisinau and Tiraspol Political Representatives on April 24, 2018.