​TIRASPOL COMPLAINS THAT MOLDOVA CREATES NEW PROBLEMS
24 january, 2020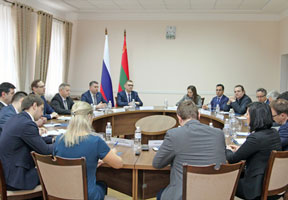 The Moldovan side deliberately creates one new problem after another in order to distract attention from the negotiation agenda, agreed on between all the 5+2 negotiating format participants, to irrelevant questions lying outside the dialog frame. Such opinion was expressed on Thursday by Transnistrian minister of foreign affairs Vitaly Ignatiev during his meeting here with OSCE Special Representative on Transnistria Ambassador Thomas Mayr-Harting.
Ignatiev said that Chisinau's destructive actions, provoking new problems, are but an attempt to ruin the dialog "at all the levels of the negotiation construction".

"First and foremost, it is necessary to fulfill the Berlin+ Package and to fully realize all the earlier accords. So far, we cannot observe whatever progress in the automobile traffic field, or in telecommunications, or in resolving the criminal litigation question. On the contrary, there is a certain regress in them", stated the chief negotiator of the unrecognized Transnistrian Moldovan Republic.

The OSCE Special Representative was received by Transnistria president Vadim Krasnoselsky, and the interlocutors held a conversation behind closed doors that lasted 3 hours. Krasnoselsky outlined the main questions that need to be settled without a delay namely the closure by Moldova of the Transnistrian enterprises' accounts in Moldovan banks, lack of progress in resolving the politically-motivated criminal litigations started by Moldova, the telecommunication problem and other.

Vadim Krasnoselsky asked the OSCE to help release urgently the Transnistria citizen detained by the Moldovan law enforcement.

Thomas Mayr-Harting emphasized the priority character of the Transnistrian conflict settlement process for the incumbent Albanian OSCE Presidency and personally for OSCE Chairperson-in-Office Edi Rama.

"I regard my personal task to be in avoiding the risk of escalation of the situation and in working to improve the people's life. I am committed to an all-out realization of the Berlin+ Protocols", said the Austrian diplomat.

Ambassador Thomas Mayr-Harting also highlighted his interest to hold a 5+2 format meeting in the first half of the current year and to organize a next ordinary Bavaria Conference on confidence-building measures.