PRESIDENT DODON DISCUSSES PASSENGER COMMUNICATION ISSUES WITH TRANSNISTRIA
02 june, 2020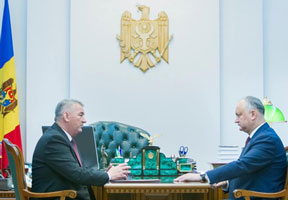 Moldova President Igor Dodon is intending to discuss with the leadership of Transnistria the question of passenger communication with several Moldovan villages situated in the Transnistria-controlled Dubasari Raion. And on Monday, he discussed this topic with Dubasari Raion Chairman Grigory Filippov, Dodon wrote on his Facebook page afterwards.

"A separate topic of the conversation was the situation of the Moldovan villages of Molovata Noua, Vasilievca, Cocieri and Roghi on the left (eastern) bank of the Dniester River. They have found themselves isolated from the Republic of Moldova territory after the Transnistrian authorities had introduced a state of emergency in the region", wrote the President.

The residents of these villages have to use a ferry to reach the right, western bank of the river because the road, connecting the 4 populated areas with the mainland Moldova, runs through a piece of the Transnistrian territory that has been blocked presently.